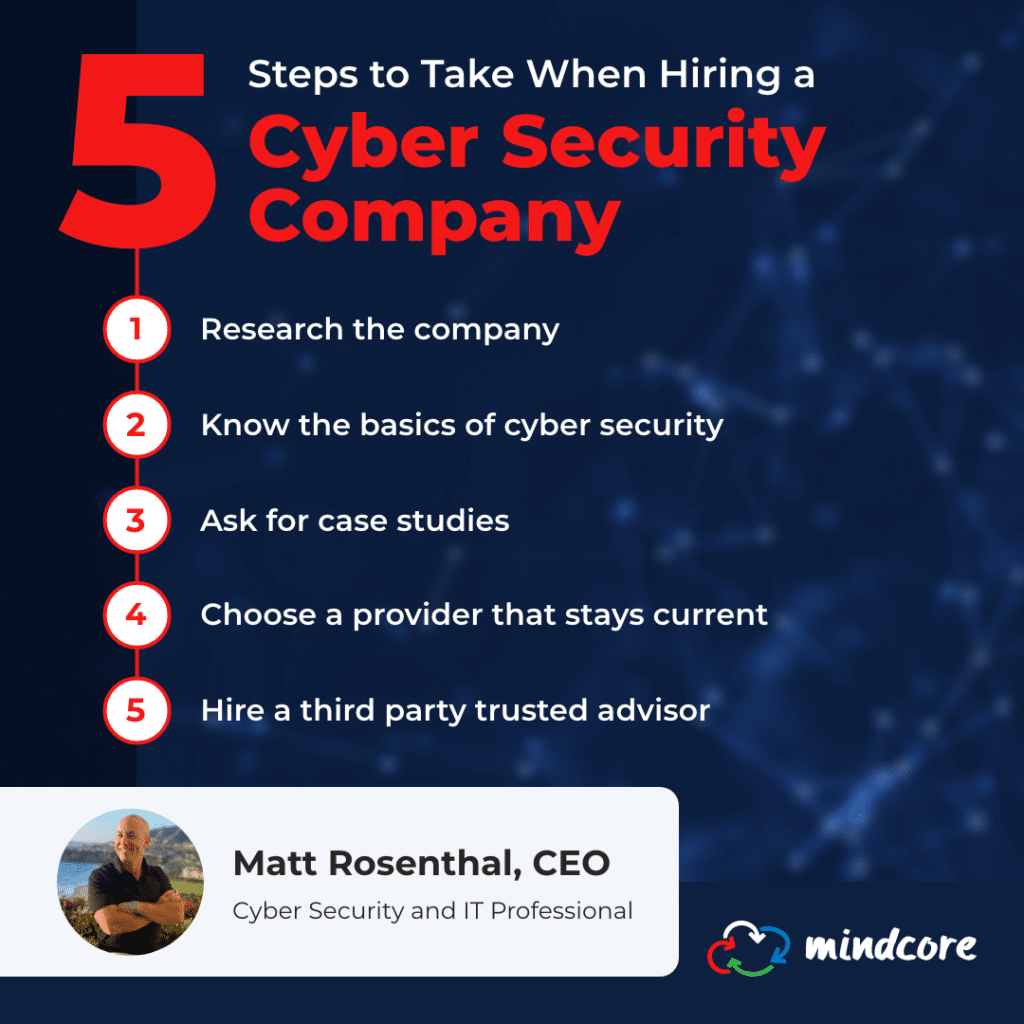 No matter how small your business is, you are still a target for hackers and other cyber threats. It's more than just your data — your customers' data is also at risk. According to IBM Security and the Ponemon Institute's 2021 Cost of a Data Breach Report, the average total cost of a data breach is $4.24 million.
So, how do you stay protected? Hiring a cyber security specialist isn't an easy task. The number one mistake that most companies make is deciding based on the lowest price. Unfortunately, the cheapest option isn't always the best one. Instead, consider the total package of what they offer. Here are some factors to consider when choosing a cyber security company.
1. Research the company
First and foremost, research the company and get an understanding of what its story is. You read reviews before you go to a restaurant or buy a product online — there's no reason you shouldn't conduct the same due diligence before choosing a cyber security specialist. Seek out some customers, particularly those in your industry, and ask about their experience. How did they help? What could have been done better? No matter what questions you ask, this sort of due diligence will tell you things about the solution that you won't get from the vendor.
2. Know the basics of cyber security
You don't have to be a cyber security expert, but you should know enough about the topic to make an informed decision. Do you have configuration issues? Are your employees clicking malicious links? Take the time to learn general cyber security basics and terms, and get to know what your organization's potential security risks could be. Unethical salespeople may push their cyber security solution as a one-size-fits-all, even though it may not address your specific needs and goals. Similar to finding a lawyer or accountant, you have to separate the amateurs from the professionals.
3. Ask for case studies
Much like references, but on a deeper level, ask the company for case studies and client portfolios. Ask about success stories they've had, breaches they've worked on, and solutions they've put in place. Security partners well-versed in compliance is a must, especially if you're in highly-regulated industries such as healthcare or finance. Initiatives such as HIPAA and PCI-DSS have different, nuanced requirements on how to ensure the safety of sensitive information. Therefore, your partner should have decades of experience working with data similar to yours. If they are unfamiliar with the programs, tools, and technology you use, it's best to look elsewhere.
4. Choose a provider that stays current
Cyber threats are ever-changing and quickly outpace current security measures. Hackers are smart and organized, and they will find new ways to exploit vulnerabilities within your networks, systems, and applications. Is the company paying attention to what's happening in the marketplace? How prepared are they to handle a breach? The security tools you implemented a year ago will not protect you today, tomorrow, or even six months from now. It's important to choose a provider that stays up-to-date with the latest cyber trends and predictions, delivers the proper training to your employees, and knows when to upgrade critical IT infrastructure.
5. Hire a third party trusted advisor
Deciding on what cyber security company to hire could have a major impact on the long-term success of your business. Although you may be inclined to enlist your board, managers, and C-suite executives for objective insights, it's unlikely that your go-to team will have all of the answers you need. This is why third-party expertise is so valuable. Bringing in a trusted advisor who understands cyber security can provide unbiased judgment, present a fresh perspective, and help you evaluate a wide range of solutions.
Cyber Security Specialists in NJ & FL
Mindcore provides companies in New Jersey, Florida, and throughout the United States with high-quality cyber security solutions, from vulnerability assessments to network monitoring. Our team of IT specialists will create a defense strategy best suited to your organization's unique goals and objectives. Contact us to learn more about our services or schedule a consultation today.