Finding the right IT consulting company can seem like an intimidating task, but when you hire the right information technology experts who understand your unique business needs, the reward will far surpass your effort.
The right IT consulting company will be your guiding light through a complex and intimidating field. More so, the right IT provider will save you considerable time and money while increasing the productivity of your business.
The IT consulting industry is quickly growing, causing countless unqualified IT consultants or IT consulting companies to claim their expertise in the space, when they have little experience that matches your company's needs.
We're here to help eliminate the stress of qualifying an IT provider, as well as alleviate your worries that you might get swindled by a posing expert.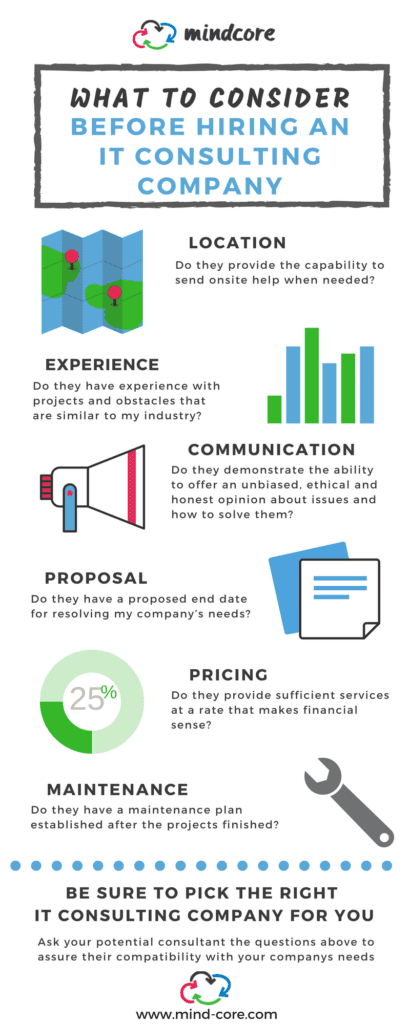 IT consulting is a popular option, but don't be fooled…
A study by IBISWorld's: 2015 Industry Report concluded:
from 2010 to 2015, the consulting industry experienced an estimated growth at an average annual rate of 5.2 percent or $200.6 billion
With such an ever-growing industry, it's easy to come across imposters who claim to be experts in the field.
In today's world, all someone must do to be considered an expert is to have a good website with a solid marketing funnel, and then add videos claiming that they're an expert. This causes companies to choose less than qualified partners to consult for their business.
For this reason, most organizations generally work through referrals when considering an outside source for their IT needs.
Whether you're considering working with a referral, or you're finding a partner from scratch, it's important to understand the below six points when looking for IT consulting company that is right for you.
6 things to consider before choosing an IT consultant or an IT consulting company
Location:
Your company's technology infrastructure is a rapidly changing environment. An issue may arise that requires an IT consulting company to come on-site to effectively handle.
If you're paying a provider for their service, it makes sense that you'd want the best service possible, and sometimes that requires onsite assistance.
If you wind up choosing an IT consulting company that isn't close to your business location, be sure to ask if the provider has the capability to send onsite help when needed.
Experience:
The key to finding out about an IT consulting company's experience is through their completed projects. Check to see if their clients, projects, industries, and obstacles are related to yours.
You can check a client's experience by reading references or reading relative case studies. References and case studies should be easy to find on the company's website.
When vetting agencies, always ask in-depth questions about their prior experiences with a relative issue, and specifically how the company solved it.
Have the IT consultant provide you with client testimonials, that way you can compare which IT consulting partner can effectively resolve your company's issues.
Most IT companies provide a varying degree of services that range from staffing help desk consultants to becoming an organization's full IT department. Some business owners prefer to try out their prospective IT partner on smaller projects. This gives you the opportunity to date your prospect before jumping into bed on a larger project.
Communication:
It's crucial to assure that your IT provider has effective communication skills.
Your chosen IT provider should have the ability to listen to your needs, recognize your business goals and challenges, and then articulately convey technical information to you that explains how they will solve your problems and lead you to your goals. A provider who communicates this in the selling process is proving that they're skilled communicators.
IT consulting professionals must demonstrate their ability to offer an unbiased, ethical, and honest opinions about your unique issues and how they can solve them. Pay attention to their communication skills during the vetting process and ask yourself:
How responsive are they?
Are they just telling you things that you want to hear?
Do they truly understand your needs, problem areas, and business goals?
Have they asked for your expectations and clearly stated which expectations can be met?
Are they providing expertise and suggestions related to solving your specific problems?
You can learn a lot about an IT consulting company based on how they communicate pre-sale. Solid communication and listening skills are far and few between in the business world but settling for less when hiring an IT provider should not be an option for you.
Proposal:
Assure that your IT consulting partner or company signifies an end date in your proposal. This will prevent the opportunity for the consultant to extend the contract longer than needed.
The proposal should also include an assessment of your company's needs with details of how each piece of the project will solve your specific issues.
The project timeline should be clearly stated, and overall costs should be provided upfront. Long and short-term projects should be clearly differentiated, and you should understand how and why each project will take its relative length of time to complete.
Once a proposal is received, review the details thoroughly and ask questions if clarification is needed. Make sure the proposal is aligned with your goals and expectations to eliminate the possibility of a surprise in the long run.
Remember, it's an IT providers job uncover and provide solutions to your problems, not cause more of them.
Pricing:
Cost structure is an important factor when determining which IT company to hire. The right IT provider will provide sufficient services at a rate that makes financial sense, no matter their level of experience or size of their company.
To save time and money, communicate your expectations and budget requirements upfront. Your IT provider should then offer an action plan that will guide you to your desired outcome in a timely manner while keeping your budget in mind.
A good IT company will find a solution to your problem with a budget that makes sense for you. If you feel the company is not worth their price, then they are either over-priced or they did a poor job of generating trust through their communication efforts during the sale process. Both results are a sign for you to continue your search for a better IT partner.
Maintenance:
Your IT provider should be with you every step of the way, especially after the project is finished.
Although maintenance is the last step, it's critical to assure that an IT consulting company has a post-project plan established prior to the start of the project.
Problems can occur after the project is completed. It's much easier for the same company that built your solution to work out the bugs because they are familiar with the code, the infrastructure, and your business.
Check to see what level of support the IT company offers post project completion, as well as how long their support team will be available for you. It is optimal when the IT provider offers maintenance as a part of their package.
By following the tips above you're taking the guesswork out of choosing the right IT consulting company for your business. Now that you're equipped with the tools, you're ready to start your search for an IT partner!