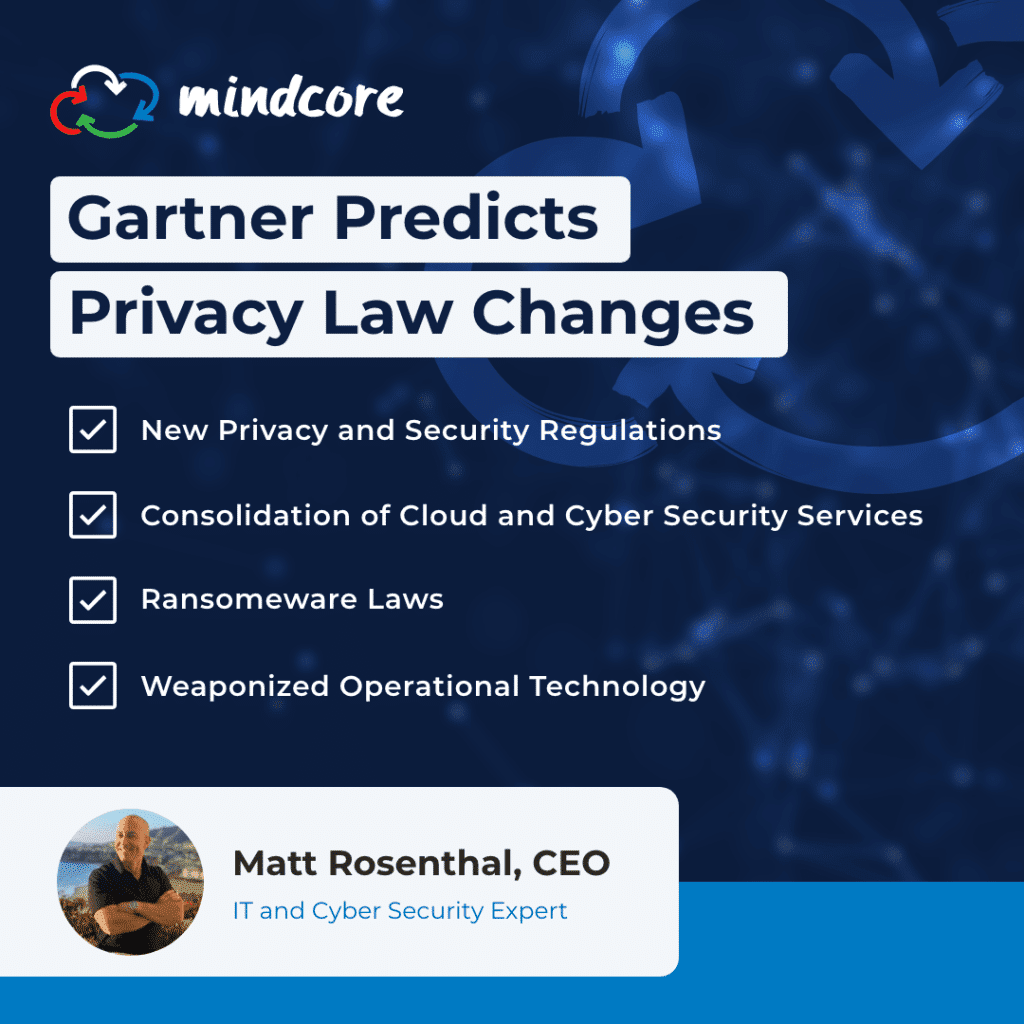 In October, Gartner, a Connecticut-based technology research and consulting firm, released its cyber security and privacy predictions for the next few years. Gartner analysts announced a series of predictions ranging from potential legislation to how the market for certain technologies will change by 2025.
New Privacy and Security Regulations
By 2023, Gartner expects that 75% of the world's population will have their personal data covered under modern privacy regulations, with built-in subject rights requests and consent. The key will be whether or not privacy management programs can be automated.
By 2024, the company said they believe that organizations adopting a cyber security mesh architecture will reduce the financial impact of security breaches by an average of 90%. Analysts expect security to be "bolted on" rather than baked into assets. However, as more and more companies shift to remote work, organizations will likely use adaptive access control capabilities to facilitate it.
Consolidation of Cloud and Cyber Security Services
Gartner also predicts a consolidation of cloud and security edge services, with 30% of businesses using the same provider for cloud-delivered SWG, CASB, ZTNA, and FWaaS solutions by 2024. According to the research institution, Software-as-a-Service (SaaS) platforms are becoming the preferred delivery model for organizations, and hardware refresh cycles will impact adoption timeframes. In addition, "60% will use cyber security risk as a primary determinant for business transactions" by 2025.
Ransomware Laws
Security will begin to play a larger role in public policy by 2025, with Gartner expecting at least 30% of the world's nations to pass some form of legislation around ransomware. There will also be more regulation centered around ransomware payments, as well as fines and negotiations. Cyber security will become a top priority for boards, with Gartner adding that by 2025, 40% of boards will have dedicated cyber committees or at least one qualified board member overseeing cyber security.
Weaponized Operational Technology
Gartner analysts also predict that weaponized OT environments will result in human casualties by 2025, due to malware that they believe will spread at wire speed. The analysts say by that time, cybercriminals will shift from business disruption to physical harm, leading to regulations placing liability on CEOs.
Stay Ahead of Cyber Security and Privacy Regulations with Mindcore
Regardless of what industry you operate in, staying up to date with cyber security and privacy law changes can be challenging. Mindcore is a leading IT service provider, helping New Jersey and Florida businesses enhance their cyber security, cloud computing, and more. We will work directly with you to understand your organization's current infrastructure, then create a personalized solution based on your specific needs and goals. For more information about our services or to schedule a consultation, contact us today.