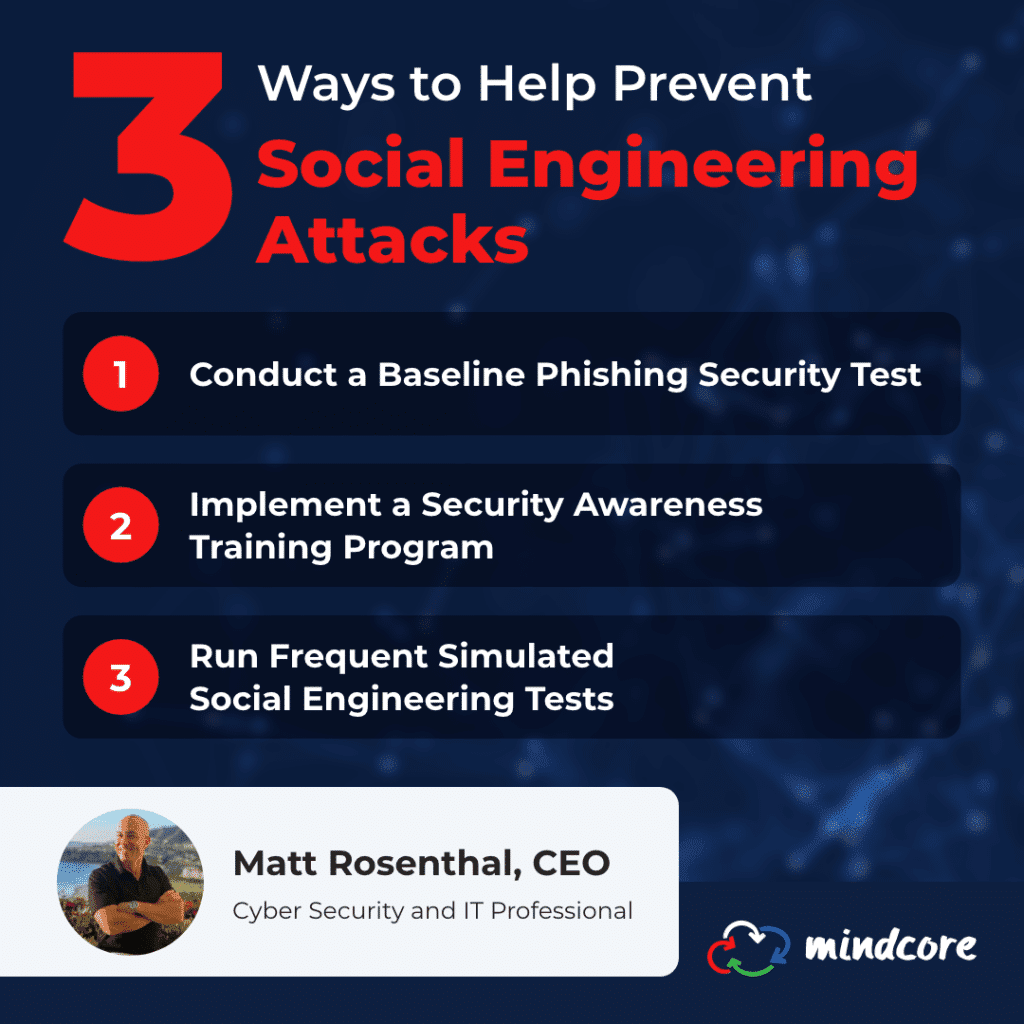 Social engineering is a form of cyber security hacking that leverages the weakest link of any network, system, or application — the end user. It relies heavily on human interaction and often involves manipulating people into breaking normal security procedures to gain unauthorized access to sensitive data. Over the past few years, social engineering has proved to be the most successful way for a cybercriminal to get inside an organization.
As we know, there are several types of social engineering techniques, such as phishing, baiting, pretexting, and quid pro quo. As these attacks continue to increase in both volume and sophistication, it's no longer a matter of if, but when a breach will happen. Learn more about how to reduce the risk of social engineering breaches below.
Tactics to Help Prevent Social Engineering Attacks
1. Conduct a Baseline Phishing Security Test
Phishing is the fraudulent practice of sending emails designed to trick a person into revealing personal information, such as passwords and credit card numbers, to the attacker. Phishing attacks were responsible for more than 80% of all reported security incidents in 2021. Conducting a baseline Phishing Security Test (PST) can help determine the vulnerability level of your network by gauging the number of people that may be susceptible to a phishing scam.
KnowBe4 offers a free PST in which one email is sent to each user within your organization, customized to your specific industry, with a test link included. Once the link is clicked, the user is directed to a landing page telling the user they've been part of a simulated phishing test. It will provide them with some rules to apply when inspecting emails in their inbox. Then, you'll receive a report that gives you the Phish-Prone Percentage™ — the percentage of users who "failed" the PST. When you work with Mindcore, we'll help you set up the PST, analyze the results, and provide remedial options.
2. Implement a Security Awareness Training Program
Social engineering, spear phishing, and ransomware attacks are showing no signs of waning in 2022 and beyond. Implementing a security awareness training program is the most simple and effective way for your organization to combat the threat of social engineering. By promoting a culture of awareness and training, you can dramatically reduce your risk of a breach and its potential effects.
As KnowBe4 experts and advisors, our team at Mindcore will help you facilitate skills-based assessments that are user-friendly and interactive. Users can compete against each other on leaderboards and earn badges while learning how to keep your organization safe and secure. If you're not sure where to start when creating a security awareness program, we'll work with you to develop a tailored strategy, based on your unique business needs and goals.
3. Run Frequent Simulated Social Engineering Tests
It's crucial to train your employees to stay on their toes and keep security top of mind. After you conduct the initial PST and evaluate the results of the report, you can schedule simulated social engineering tests regularly. KnowBe4 has a library of more than 12,000 templates, or you can design custom phishing templates.
Running frequent simulations across multiple channels allows you to monitor trends and see how your human firewall improves over time. It's also a cost-effective way to identify and remediate vulnerabilities within your technical or physical controls before a hacker finds them.
Trusted Cyber Security Consultants in NJ & FL
At Mindcore, we work closely with businesses in various industries to help them prevent social engineering attacks. Our cyber security consultants in New Jersey and Florida will give you the tools and resources necessary to develop a comprehensive security awareness program and train your employees for success. We're also KnowBe4 experts, and we proudly offer 24/7 support for your company and its end users. Contact us with any questions or to schedule a consultation today!