CEFEX Certification Explained
CEFEX, the Centre for Fiduciary Excellence, LLC, is an independent global certification organization. CEFEX works closely with industry experts, providing comprehensive assessment programs to improve the fiduciary practices of investment stewards, advisors, recordkeepers, administrators, and managers. Simply put, CEFEX certification helps determine the trustworthiness of investment fiduciaries.
What Does It Mean to Be CEFEX-Certified?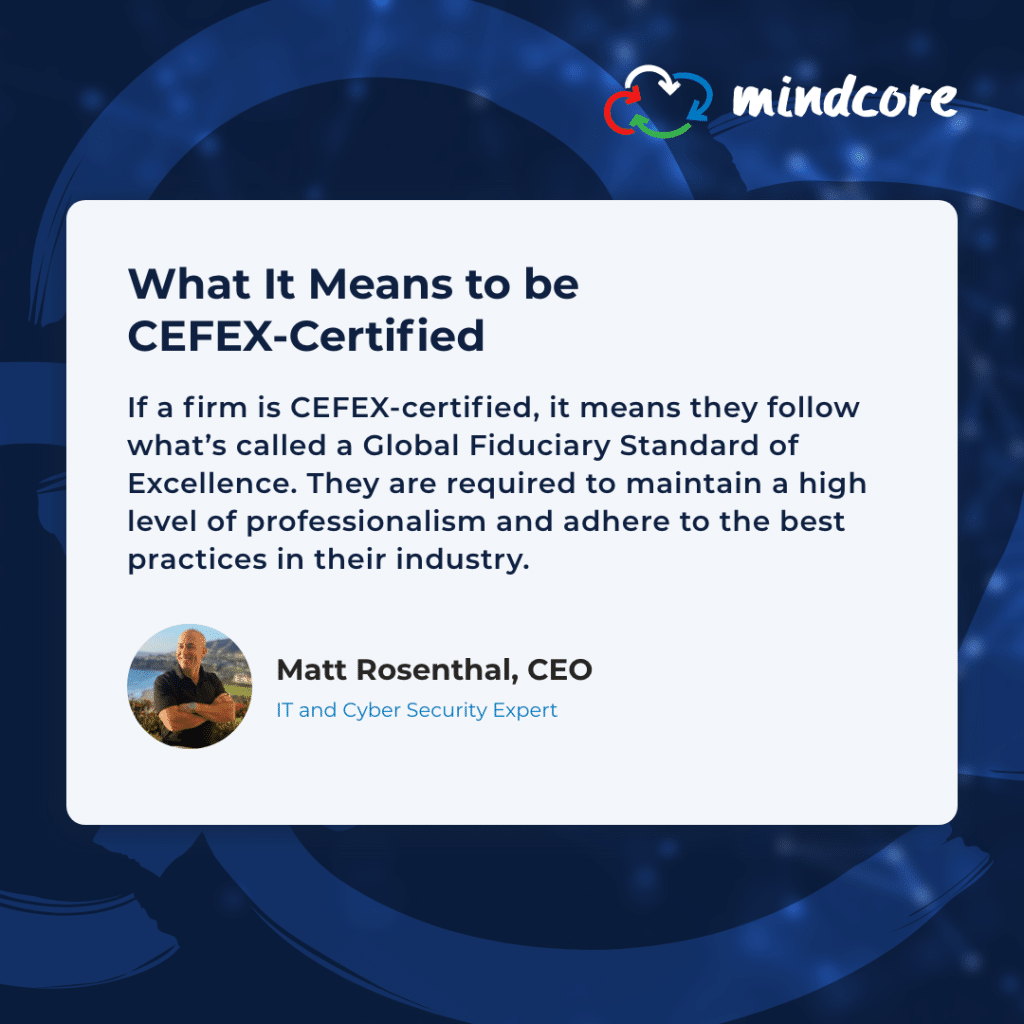 Some organizations oversee financial advisors and various certifications one might acquire. A CEFEX certification is one way to determine whether your advisor operates by a certain set of standards. If a firm is CEFEX-certified, it means they follow what's called a Global Fiduciary Standard of Excellence. They are required to maintain a high level of professionalism and adhere to the best practices in their industry.
They must also undergo annual audits, which act as supplemental performance reviews, conducted by regulatory bodies such as the Securities and Exchange Commission (SEC). These audits cost between $5,000 and $20,000, depending on the size of the firm. Annual audits involve:
Document review
Corporate metrics review
A thorough analysis of processes and workflows
Benefits of Working With A CEFEX-Certified Firm
A CEFEX-certified firm acts in its clients' best interest. CEFEX certification ensures that an organization upholds high standards of conduct and has prudent fiduciary practices in place that are worthy of investors' trust and confidence.
Benefits of working with a CEFEX-certified firm include:
Higher probability of enhanced portfolio performance
Greater transparency
Increased oversight
Competitive influence
CEFEX Certification For Third Party Administrators
A third party administrator, or TPA, is an organization that processes health and/or other claims for an employer benefit program. TPAs are often used with self-insured health plans, which are not subject to state insurance laws and oversight. Instead, they're regulated at the federal level under ERISA. The CEFEX certification of TPAs is based on the Standard of Practice for Retirement Plan Service Providers, which is also applicable to recordkeepers. The standard addresses the industry's best practices in four key areas:
Organize. This area includes the TPA's management structure, IT systems, procedures, and HR practices.
Formalize. This area includes the TPA's business strategy, allocation of resources, disclosure of fees, and sales marketing practices.
Implement. This area includes the TPA's information management systems, administrative capabilities, compliance practices, and other procedures to ensure plan continuity.
Monitor. This area covers the TPA's process to review its own effectiveness.
It's important to note that CEFEX certification is voluntary for TPAs, and those who take the extra step recognize how relevant this can be to plan sponsors. TPAs are major players in our nation's retirement system, so the best ones understand the importance of operating to the highest standard.
How to Find CEFEX-Certified Advisors
Choosing an advisor requires in-depth research to determine if they're a good match for your organization's specific needs and goals. Once you pick them, check their credentials. CEFEX maintains a list of certified investment stewards, investment managers, recordkeepers, and TPAs. Your advisor, if certified, may also show the CEFEX badge on their website. When you click on the badge, it should display the firm's certificate of registration. While a CEFEX certification is a positive mark for an advisor, it's still wise to conduct the proper due diligence before making a final decision.
Leading IT Company in NJ & FL
With over 20 years of experience, Mindcore provides companies in a wide range of industries with best-in-class IT solutions. We also offer support for TPA firms as they navigate the CEFEX certification process, and our team will ensure that you successfully meet the requirements of the standard. Our IT services in New Jersey and Florida help you make the most of your technology investments, from cyber security to network management. Contact us to schedule a consultation and speak with an expert today!