Using Workplace Analytics in Office 365 to Monitor employee productivity.
Are you having trouble quantifying productivity in a newfound era of remote working? While Office 365 and Microsoft Teams are more than capable of improving company productivity regardless of the location of your employees, Microsoft has released new features to help better quantify productivity through its project management software. They've been getting refined since 2018, and now is a better time than ever to give them a try.
This feature can be found by administrators under "Workplace Analytics."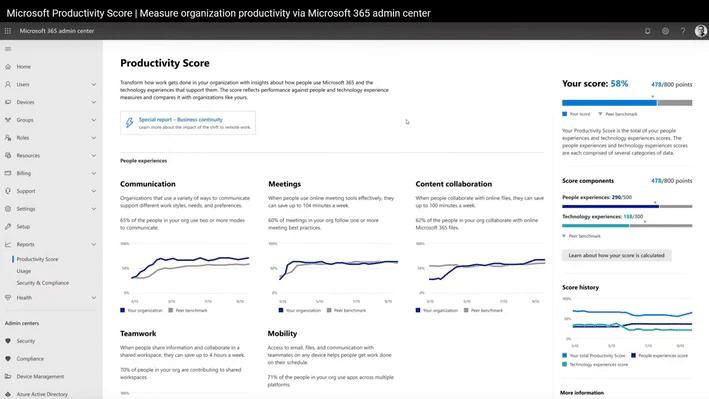 What is Workplace Analytics in Office Suite 365?
Workplace Analytics provides numerical data and stats on your workers' activities. This can range from which aspects of 365 are being used the most or how long tasks are taking. It's a tool that enables managers to tinker with long-term productivity and transformation initiatives that may ultimately lead to solving workflow gaps within your organization.
Because the software is baked into the Office 365 ecosystem, adaptation by your company becomes far more seamless than integrating a 3rd party tool that may or may not synchronize in a seamless or non-exploitable fashion.
Workplace Analytics Features:
In Depth Security and Data Privacy
As with any aspect of Office 365's Suite, data control and cloud security enable your organization to maintain compliance with any requirements set forth by your industry or region.
Example Insights and Actions in Workplace Analytics
Discover opportunities to optimize business processes or problematic patterns troubling your company.
Measure the impact of workflows on your business outcomes.
Address collaboration overload.
Improve process and protocol hierarchies.
Break down silos within your organization.
Improve managerial practices.
Improve sales productivity.
Transform your employees' understanding of their work habits.
The Danger of Workplace Analytics:
Considering that much of your workload can occur in Microsoft's Office suite – documents, spreadsheets, presentations, etc. – the analytics of your productivity here is as valuable as anywhere else. But in a world where our privacy and our data are increasingly under scrutiny, more than one employee might likely fear a "Big Brother" sort of atmosphere within the workplace.
The good news is that Microsoft has already planned on this, and there are different levels of monitoring that can be set. You can configure the group size, obfuscate identity, and limit certain activity access levels. With a clear transparent work policy regarding the use of these analytics, no company should experience any major issues with morale.
The real danger, however, lies in the reality that comes with any data tool. If you don't properly configure it, or you don't know how to interpret the data. You may find yourself wondering if the tool is too much for your company to utilize. This is especially true if your company is doing fine and you take an "if it ain't broke, don't fix it" approach to operations. But what if you could be 15% more efficient? What if your managers could coach their teams with more actionable information? What if your teams could have a better work environment and workflow? If this leads to even a 10% improvement in profit, isn't that a worthwhile pursuit?
Accessing and Optimizing Workplace Analytics
Your company's digital transformation doesn't stop with migrating to the cloud or adopting Office 365. Integrating the Office Suite and Microsoft Teams into your operations should continually be refined through sustainable practices and data-based decisions. That means making sure that tools like monitoring your Office 365 project need to be set up correctly, as well as properly maintained.
If you're ready to take your cloud operations to another level, give Mindcore a call. We can handle all of your digital transformation needs, provide you with training, refine your budget, and help institute a more productive work from home experience for your company.