Cloud computing isn't just a trending hashtag on social media.
Over the last decade, the shift from traditional infrastructure models to cloud based solutions has steadily gained momentum.
Tech industry leaders such as AWS, Microsoft, and Citrix are making major investments in cloud technology and delivery. We are experiencing an exciting time as we watch the innovation of cloud solutions disrupt the market.
As we continue to look ahead, the next decade of cloud computing promises to keep up its momentum.
Gartner recently reported that the cloud services market is predicted to grow 17.3% ($206 billion) in 2019.
This statistic is up from $175.8 billion in 2018, which is largely due to the cloud's ability to simplify an organization's technology.
All this information might leave you asking, what is cloud computing and why would it matter for my business?
In this post we will cover:
What is cloud computing?
Brief history of cloud computing
Types of cloud computing (with examples)
What makes cloud computing different?
What is cloud computing?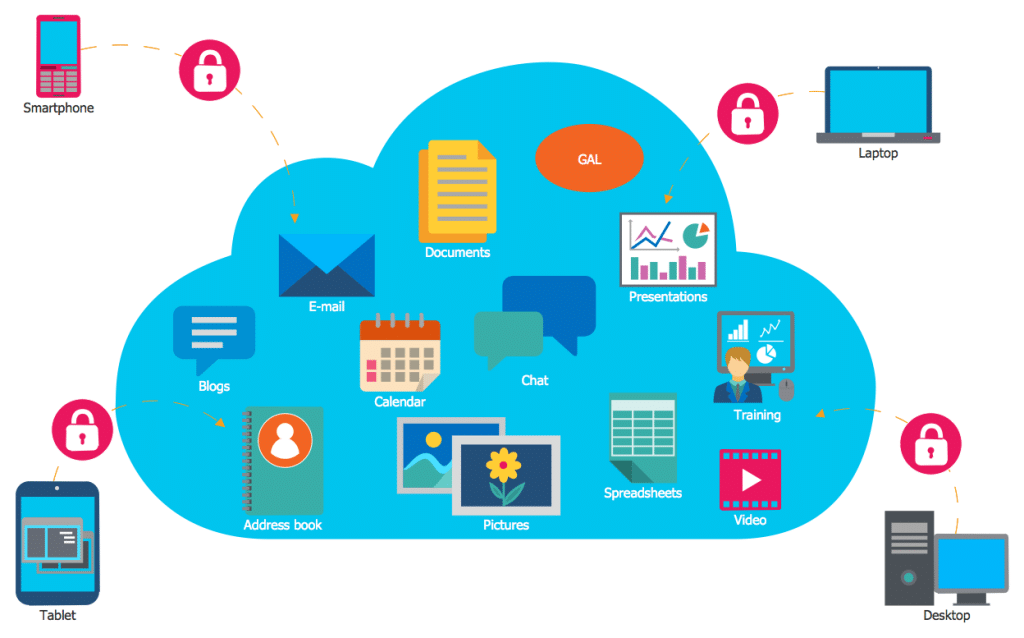 If you imagine the internet as a virtual world that connects users from all over the globe, it is just like a cloud, which exchanges and stores information through networks, remote servers, and hosted applications.
In the simplest terms, cloud computing is the delivery of on-demand computing services where data and programs are stored on physical and virtual servers. The stored data and programs can be accessed over an internet connection rather than only through your computer's hard drive.
Cloud computing is provided to you as a pay-as-you-go service by a cloud computing provider. You only pay for what you need, which means you can easily scale as your business needs change.
Gone are the days when it was necessary to be in your office and on your company's network to access information.
The cloud is a simple and seamless way to share resources, software, applications, and information through a network, in this case the internet, on any device, anywhere, and anytime.
History of cloud computing
Cloud computing is a term that has been around since the early 2000s.
However, the concept of computing-as-a-service has been around as far back as the 1960s. During this time, companies would rent time on a mainframe from computer bureaus instead of independently buying one.
Computing-as-a-service became a thing of the past when owning a computer became affordable. Then came the increase of corporate data centers where companies would store massive amounts of data.
Yet, the notion of renting access to computing power has reappeared time and time again in the late 1990s and early 2000s, due to technology advances such as:
Utility computing
Grid computing
Application service providers
Before long, cloud computing emerged with the development of software-as-a-service and hyperscale cloud computing providers like Amazon Web Services.
Types of cloud computing (with examples)
It's important to note that there are a few different models of cloud computing.
Specifically, cloud computing can be broken down to three models:
Infrastructure as a Service (IaaS): where you have the option to purchase raw computing hardware like servers (virtual or physical), storage, and networking over the internet.
IaaS ultimately provides companies with a high level of management and flexibility over their IT resources.
Many organizations desire this service because it permits almost full control of all elements. Additionally, IaaS does not require that the organization has the technical skills to manage the services.
Example of IaaS: Amazon Web Services (AWSAzure)
AWS takes full responsibility of a user's storage, server, virtualization, and networking, while the user is responsible for managing other elements such as the operating system, applications, middleware, runtime, and data.
Software as a Service (SaaS): the delivery of software licensing and applications which are available for users to access over the internet by a third-party provider.
Generally, SaaS providers offer a variety of office applications online.
These applications are accessed over the internet and run on someone else's system. Most people are accustomed to this version of cloud computing.
Example of SaaS: Google Apps
Google apps such as Gmail, Google Documents, Google Drive and Google Calendar are great examples of SaaS, since these applications are accessed over an internet connection and hosted by a third-party provider.
Platform as a Service (PaaS): provides computing platforms that run on operating systems and hardware provided by another company.
PaaS delivers all the infrastructure required to create and manage custom cloud apps.
More so, PaaS will take care of the system administrative details such as capacity planning, software and hardware maintenance, patching, or any other stack related headaches involved in running your application.
This allows organizations to be more efficient and focus on their customers, deployment, and management of their applications, while removing the hassle of maintaining underlying infrastructure.
Example of PaaS: Salesforce.com
Salesforce.com is perhaps a prime example of a PaaS, as it provides users the tools to develop and build custom software. Users can access the platform over the internet, instead of installing, maintaining and managing complex hardware and software.
What makes cloud computing different?
It's managed
The most important point that makes cloud computing different is that it's managed on your behalf by someone else.
With cloud computing, it's is no longer necessary to buy licenses for word-processing software, keep them up-to-date, back files up, or even worse- worry about viruses!
With web-based services, there is no need to worry about how the services you buy are provided.
Your job is to simply focus on your business and leave these worries to your cloud service provider.
It's on-demand
Another differentiator of cloud computing is that it's on-demand and purchased on a "pay-as-you-go" basis. Users can access computing resources as needed, the same way you would purchase your internet or electricity from a utility company.
This ability is a great asset for businesses that have unpredictable needs, and prevents them from having to buy, build, and maintain their own computing system.
Jeff Bezos, CEO of Amazon, sums up this capability well:
"You don't generate your own electricity. Why generate your own computing?"
3. It's public, private, or hybrid
With the public cloud model computing services are delivered over the public internet by a third-party provider with a pay-as-you-go pricing model. All users share space and time on the same cloud and access it the same way.
IT services may range from common services such as email, storage, and apps. The cloud vendor is responsible for managing, developing, and maintaining these shared computing resources between multiple users across the network.
Technically, the private cloud works the same way as the public cloud but is dedicated for use by a single organization.
This model is either exclusively managed by a single organization on premise, or by a cloud vendor off-site on their behalf. The computing resources are isolated and delivered over a secure network and cannot be accessed by users outside this network.
The hybrid cloud is considered as the best of both worlds. It is a cloud infrastructure mixture of both public and private cloud models with the benefit of both environments.
This model enables an organization to deploy an on-premise private cloud to host sensitive or critical workloads, while using a public cloud provider to host less-sensitive resources.
Overall, hybrid cloud is particularly beneficial for dynamic or highly changeable workloads.
Final points
Cloud computing is revolutionizing the way we do business. Companies are taking advantage of cloud services to tackle their daily business objectives.
Positioning your business for success by leveraging cloud technology has become the normal way of doing business. If you want to position your business for success, then it's time to shift to cloud-based services.
They're a myriad of benefits to cloud computing, and you can read more about that here on the '9 benefits of cloud computing.'