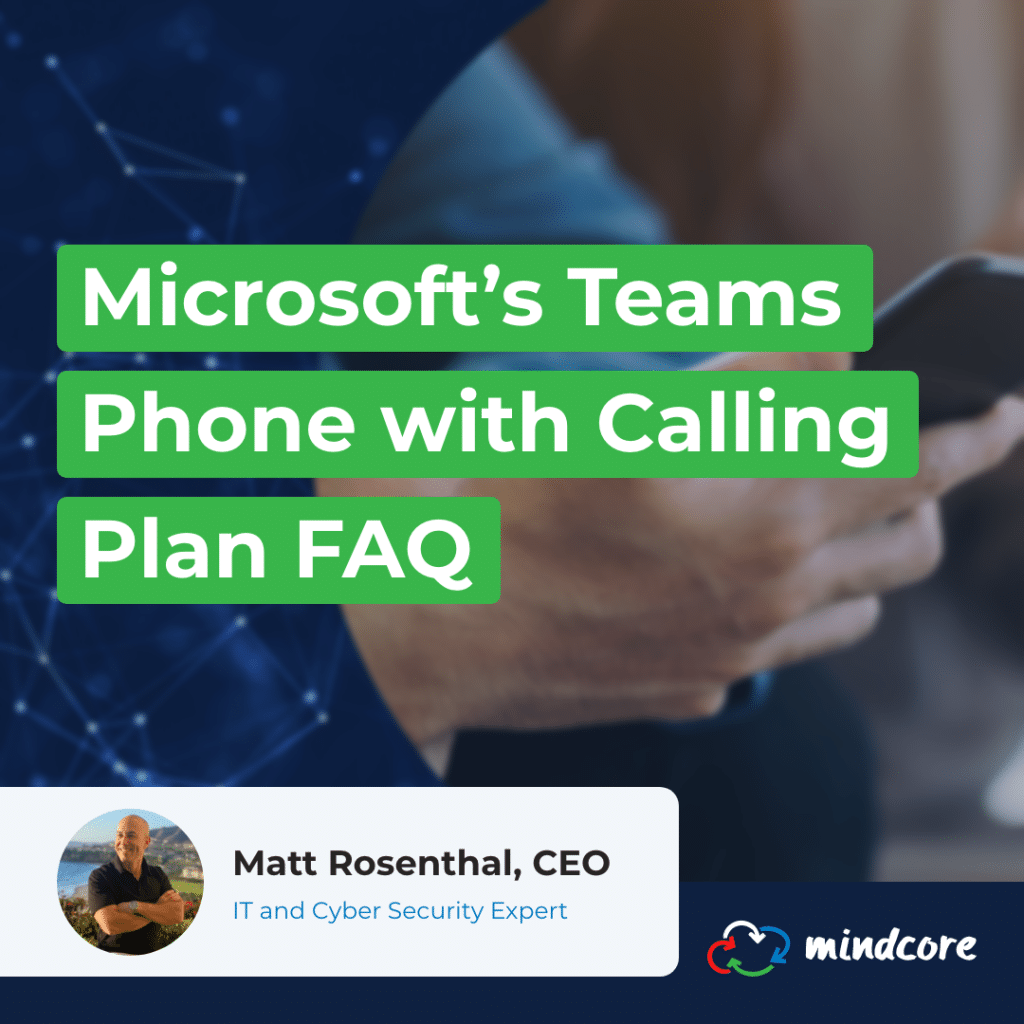 Microsoft is consolidating the Teams Phone SMB (Microsoft 365 Business Voice) and Enterprise (Teams Calling Essentials) bundles into a new SKU called "Teams Phone with Calling Plan." Starting on January 1, 2022, Teams Phone with Calling Plan will be available for purchase. As a Microsoft Partner, Mindcore wants to answer all your questions about Microsoft's new Teams Phone with Calling Plan. Here are some frequently asked questions to help you stay informed.
Why is Business Voice being replaced?
The goal of the new Teams Phone with Calling Plan is to simplify the purchase decision process and streamline the delivery of enterprise-grade capabilities to SMBs. Another reason for the new plan is to realign audio conferencing, which will be available as part of all Teams-inclusive Microsoft 365 and Office 365 subscriptions on March 1, 2022.
Who is impacted by this change?
There is no immediate action that existing Business Voice customers need to take. Customers will continue to use Business Voice until the date their subscription expires. At the time of renewal, customers can select from the new Teams Phone with Calling Plan bundle or renew their Business Voice subscription for one additional term until June 30, 2022.
What is included in Teams Phone with Calling Plan?
Teams Phone with Calling Plan is a cloud-based phone system that brings together calling, chat, meetings, and collaboration into a single app. It enables users to make calls from anywhere, on any device — including computers, smartphones, desk phones, and meeting rooms.
The plan combines essential telephony components: a phone system and a domestic calling plan into a single package. The domestic calling plan includes 3,000 minutes for the US and Canada, 1,200 minutes in other available markets.
Customers can also add toll-free numbers and additional minutes to the plan, which can be paid through a prepaid wallet known as Communications Credits. An optional international calling plan that includes 600 minutes/user/month can be purchased as an add-on.
Is Teams Phone with Calling Plan also available as a standalone product?
No, the plan is not available as a standalone product. At this time customers must be on an eligible Microsoft 365 or Office 365 subscription to add-on Teams Phone with Calling Plan.
Where will Teams Phone with Calling Plan be available?
It will be available in the 33 Microsoft 365 Calling Plan markets. Teams Phone is also available as a standalone SKU in 70+ countries through Microsoft partners who provide dial-tone services. View the entire list of countries here.
What languages are supported by Teams Phone with Calling Plan?
Teams Phone with Calling Plan is available in the languages supported by Microsoft Teams. You can find more information about market and language availability here.
How can Teams Phone with Calling Plan be purchased?
Teams Phone with Calling Plan can be purchased directly from Microsoft or a Microsoft partner. It requires that a business be on a Microsoft 365 subscription that includes Microsoft Teams. The plan can also be added onto the following eligible subscriptions:
Microsoft 365 Business Basic
Microsoft Business Standard
Microsoft Business Premium ( F1, F3, E3, A3)
Office 365 (F1, F3, E1, E3, A1, A3)
What phones are supported?
Teams Phone is experienced through the Microsoft Teams applications on Teams-certified desk phones, conference phones, and meeting room systems. For available devices check out the Microsoft Teams Devices Marketplace.
Which devices or platforms is Teams Phone available on?
Teams Phone is experienced through the Microsoft Teams application available on iOS, Android, Windows, Mac, and web.
Can I use my existing phone numbers?
Yes. You can transfer your phone numbers from your current service provider to Teams Phone. After you port your phone numbers over, Microsoft will become your service provider.
Can customers bring their own calling plan?
Yes. Customers can choose between using Microsoft as their telephony carrier or connecting their own operator to Microsoft Teams by using Operator Connect or Direct Routing.
Can I use extension dialing with Teams Phone?
Yes. Extension dialing habits can be retained with Teams Phone and applied on a global or user level. Microsoft Teams also makes it easier to search for people and escalate existing IMs to phone calls, so extension dialing becomes less important in daily use.
Does Teams Phone support Emergency Services?
Yes. However, it depends on your region and how you connect Teams Phone to the PSTN network. Please review the Emergency Calling overview in the Teams technical documentation and the Emergency calling terms and conditions for full details.
Can I call someone for free using Microsoft Teams?
Yes. Teams supports calling and meetings between Teams users of the same organization and with other organizations by organizing meetings or using external access (federation). You can assign a phone number to Teams users, giving them the capability to dial PSTN numbers and receive incoming calls to their phone number.
What is the recommended Call Queue / Contact Center / Reception software with Teams Phone?
Microsoft Teams with Teams Phone supports various options for group calling such as:
Can Microsoft Teams be configured to concurrently ring a landline as well as a cellphone when people try to reach me?
Yes. Your office landline number would be assigned to Microsoft Teams and you would receive your incoming calls within the different Teams apps. Using Simultaneous ringing, you can configure Microsoft Teams to also ring your mobile phone when a call is received on your landline number.
Does Teams Phone provide call reports?
Yes. You can learn more about Microsoft Teams analytics and reporting here.
Microsoft 365 Consultants in NJ & FL
As a leading Microsoft Partner, we can provide you with the knowledge and tools you need to effectively integrate Teams Phone with Calling Plan into your business. Schedule a consultation with Mindcore today to learn more.