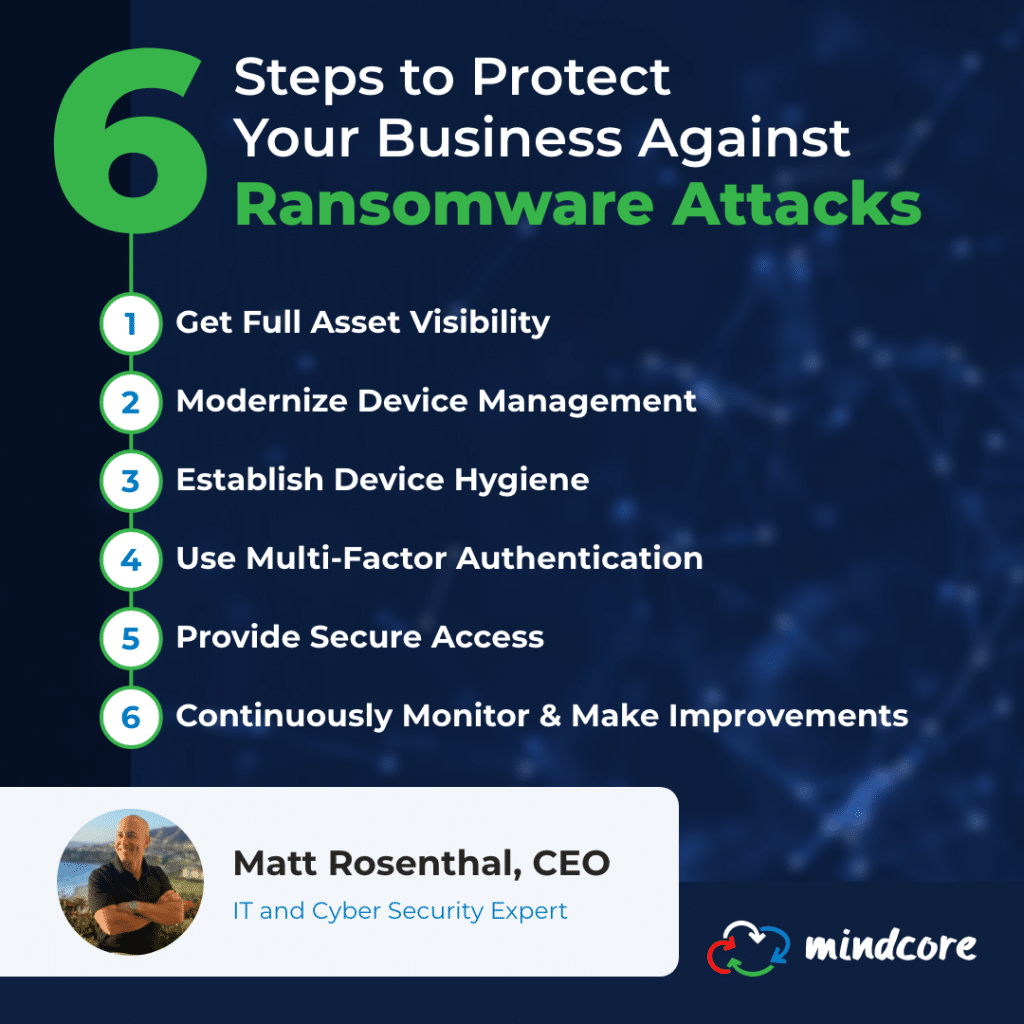 The success of ransomware attacks in 2021 has only encouraged cyber threat actors around the globe to continue wreaking havoc on innocent victims, both individuals and businesses alike. Ransomware attacks are showing no sign of slowing down in 2022. This conclusion comes from a new report conducted in partnership by Ivanti, Cyber Security Works, and Cyware.
The Ransomware Spotlight Year-End Report saw a 29% increase in vulnerabilities associated with ransomware and a 25% increase in ransomware families (157 vs. 125) in 2021. Each day, threat actors are broadening their attack spheres and finding new, innovative ways to compromise networks. The good news is, while ransomware threats are increasing in sophistication, so are countermeasures. Here are six cyber-defense steps you can take to protect your company in 2022.
1. Get Full Asset Visibility
Invest in an automated platform that gives you full visibility into your connected devices and software, which provides you context around who is using your device, what users have access to, and how and when people are using that device. These platforms help your cyber security team keep company assets protected and make better decisions to improve your overall IT security posture.
2. Modernize Device Management
Modern management techniques, such as unified endpoint management (UEM), allows IT experts to manage, secure, and deploy company resources and applications on any device from a single platform. It is an essential part of increasing security in remote and hybrid work environments – while also helping lower IT overhead costs and hardware expenses.
3. Establish Device Hygiene
Companies should establish device hygiene processes to combat application, device, and network vulnerabilities that could lead to a ransomware attack. To establish device hygiene, you must develop a proactive approach to ensuring that only devices meeting defined security requirements have access to critical information or resources. It also involves creating processes that are repeatable to protect your devices further down the line.
4. Use Multi-Factor Authentication
We all use passwords to gain entry into our email accounts, work databases, or other online accounts. The truth is that, on their own, passwords no longer provide an appropriate level of security. Single sign-on (SSO) password solutions create a single point of failure that can be exploited by hackers to access most, if not all, of your business applications. Multi-factor authentication (MFA) requires a user to present at least two factors of identification, keeping accounts more secure. One is typically your username and password, which is something you know. The other could be:
Something you have (possession), such as a smartphone or badge
Something you are (inherence), such as a biometric like a fingerprint, face ID, or voice recognition
5. Provide Secure Access
There's no longer a single, defensible boundary between your company's internal assets and the outside world. Working remotely, users can connect from anywhere on any device. With a software-defined perimeter (SDP), you can achieve zero trust and secure your devices against ransomware. SDP is a security framework that controls access to your resources based on identity. It also leverages standards-based components that easily integrate with your existing security systems.
6. Continuously Monitor & Make Improvements
Your organization must get a handle on governance, risk management, and compliance (GRC) before a ransomware attack happens. A good GRC solution allows you to establish and measure compliance best practices while managing and responding to risk, both internally and across your third-party relationships. You should also seek to replace manual tasks with automated, repetitive governance activities wherever possible.
Comprehensive IT Solutions For Your Business in NJ & FL
At Mindcore, we offer the nation's highest-rated cyber security services for companies in New Jersey, Florida, and throughout the United States. Our IT specialists will work closely with you to create a defense strategy tailored to your specific needs and budget. We also offer 24/7 support to ensure that your IT systems and network are continuously monitored and managed. Contact us for more information about our services or to schedule a consultation today!