How to Select the Right MDR Provider for Your Business
Presently, over 200 organizations are delivering Managed Detection and Response (MDR) services worldwide. Security leaders recognize that rapidly detecting a threat is meaningless without the ability to respond with confidence. The goal of MDR is to help under-resourced security teams identify and stop threat actors before they cause significant damage.
As cyber-attacks continue to increase in both sophistication and speed, we've experienced a huge shift from an alert-driven to a response-driven service model. MDR growth has been good for the advancement of cyber security, but many organizations are still unsure of how to choose the right provider for their business. The five recurring and measurable components your MDR solution needs to address include: 
Risk management
Management & support
Visibility
Detection & Blocking
Response
5 Questions to Ask a Potential Vendor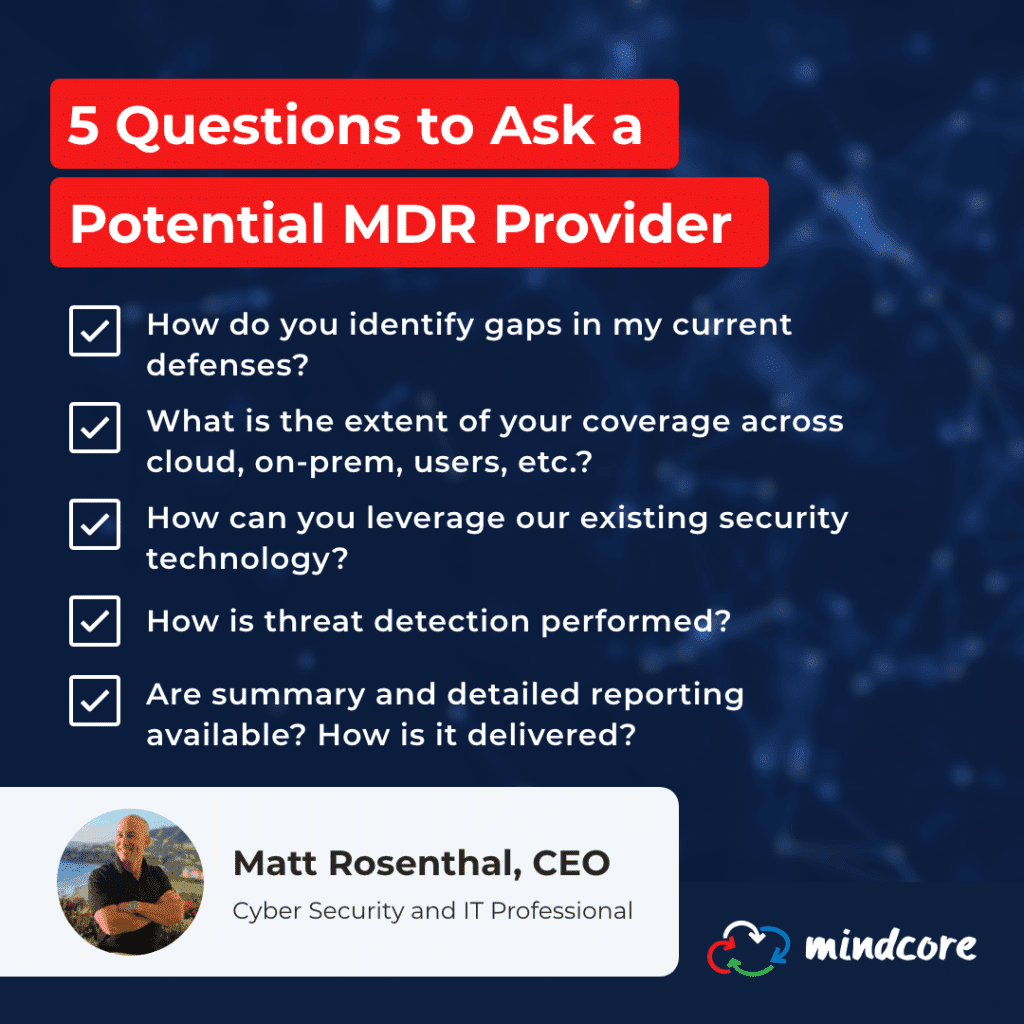 As we know, MDR services can vary greatly across the market and there is no one-size-fits-all solution — it depends on your organization's unique security needs and goals. However, during the evaluation process, there are specific questions you should ask to qualify or disqualify a potential vendor from consideration. Here are 5 questions to help you determine their ability to meet your Managed Detection and Response requirements.
1. How do you identify gaps in my current defenses?
Your MDR provider should spend some time reviewing your current cyber security infrastructure, including the networks, systems, and applications. Make sure they perform an in-depth security gap analysis to identify areas of weakness and provide recommendations on how to improve for the future.
2. What is the extent of your coverage across cloud, on-prem, users, etc.?
It's likely that your organization uses on-premise data centers, the cloud, or a combination of both. If you are unaware of devices connected to your network or cloud apps being used to store data, you can't effectively patch, update, or protect them against incoming threats. Your MDR provider needs to have comprehensive visibility across your environment, including 24/7 monitoring, because cyber attacks do not follow business hours.
3. How can you leverage our existing security technology?
Many vendors will ask that you either purchase new technology, add their technology, or introduce a duplicate technology. However, an MDR provider should be able to leverage your existing security tools and only require new ones if completely necessary. You'll want to make sure the tech you have in place can actually do what it needs to do.
4. How is threat detection performed?
When it comes to detecting and mitigating threats, speed is crucial. Your MDR provider should be able to detect threats quickly and efficiently so attackers don't have time to achieve their objectives. It's a multifaceted process, which includes both proactive and reactive methods. Ask for use cases to determine if the vendor has the knowledge and expertise to handle all types of threats that may arise.
5. Are summary and detailed reporting available? How is it delivered?
The primary goal of your MDR solution is to reduce the likelihood or impact of successful attacks. However, you also need to understand the state of your cyber security posture and demonstrate compliance with industry and regulatory requirements. Your MDR provider should be able to deliver reporting that is both useful and accurate on a consistent basis. Be sure to ask how and when you'll receive these reports to make sure it works for your organization.
There are many other questions and criteria you'll want to consider when evaluating an MDR provider, but these are just a few of the important ones. We encourage you to ask for customer references, participate in virtual Security Operations Center (SOC) tours, schedule in-person visits, and survey peers as well as industry analysts on their personal experiences with vendor satisfaction.
High-Quality MDR Services in NJ & FL
Mindcore is proud to provide companies in New Jersey, Florida, and throughout the United States with reliable and effective cyber security services, including Managed Detection and Response. We stay up to date with the latest threats in the industry to keep your systems, networks, devices, and data secure at all times. Contact us today to learn more about our services or schedule a consultation with a member of our team!