The Emergence of Managed Detection and Response (MDR)
Organizations are under constant threat of data loss and disruption from security breaches, which continue to increase in volume and complexity. Managed detection and response (MDR) is an outsourced cybersecurity service that provides companies with threat-hunting services. Once a threat is discovered – MDR solutions offer a platform and team of experts who can minimize the likelihood or impact of successful cyber attacks. 
In this guide, we will go over the criteria for MDR providers and define the seven categories of MDR to help organizations select a provider that is best aligned with their business objectives, security resources, and risk tolerance.
Criteria for MDR Providers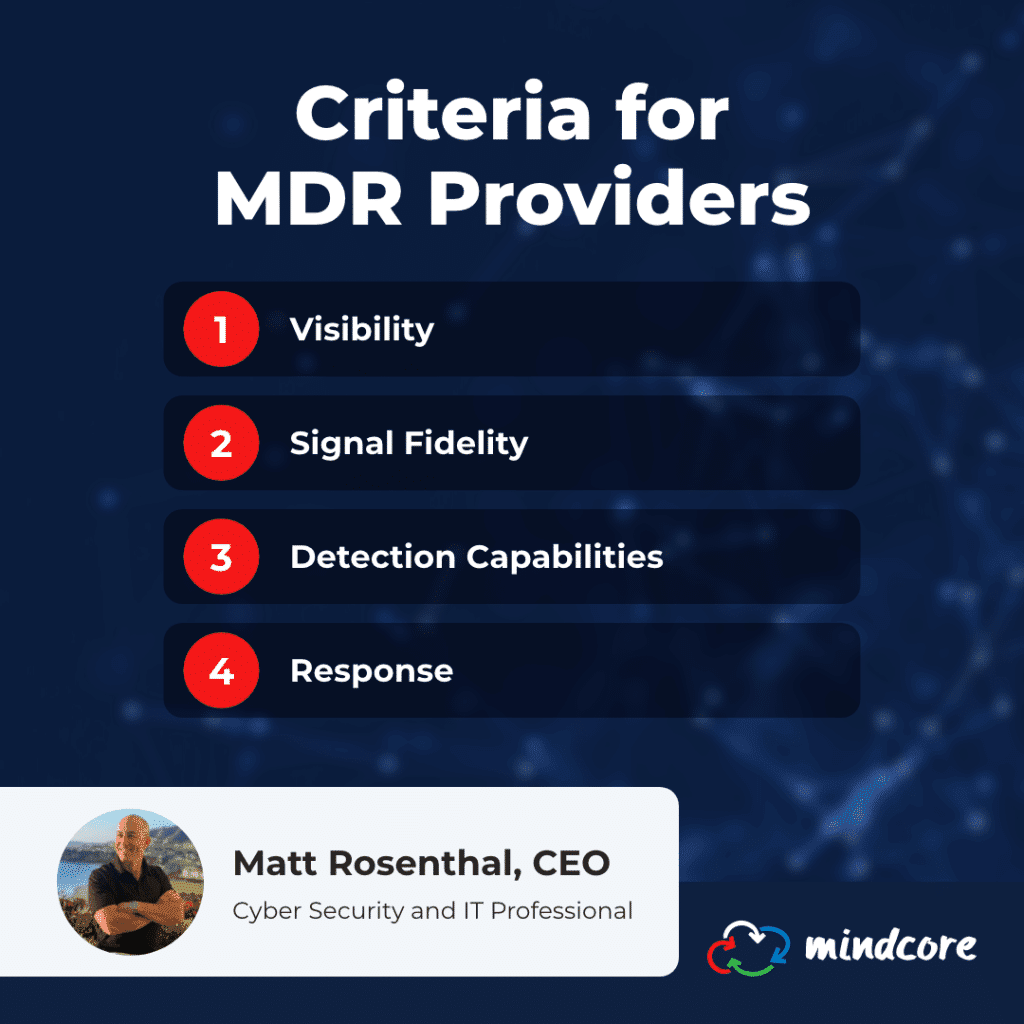 MDR providers are crucial to maintaining an organization's security posture. When evaluating providers, make sure they meet the following four criteria.
1. Visibility
Visibility into the digital network is more critical than ever before. Businesses operate on-premises, in the cloud, or within a hybrid environment. Due to the rise of mobile users and cloud workflows, the traditional perimeter-based defense model is no longer enough. Visibility into your company's full attack surface is required to reduce downtime by monitoring all the places threat actors may be hiding before initiating a cyber attack.
For MDR providers to gain enhanced visibility, data must be collected from several telemetry signals, which are data sources that include endpoints, network activity, security controls, and cloud services.
When examining the potential of MDR providers, make sure they have the visibility capabilities to gather data from these sources. Organizations will benefit more from providers that have the level of visibility your business needs and will be able to manage threats more effectively, making more informed decisions on what actions to take.
2. Signal Fidelity
When analyzing MDR providers, organizations should consider both the visibility they provide and the depth of that visibility. Signal fidelity measures the depth of information provided by each signal source. Each signal source has its strengths and weaknesses when applied to the investigative process. In general, the deeper the level of evidence (the fidelity), the more qualified MDR providers are to detect, hunt, and confirm a threat actor's presence.
3. Detection Capabilities
Due to the ingenuity of security researchers and the persistence of attackers, the list of detection capabilities and related threats is never-ending. When vetting potential vendors, you must ask the right questions related to their knowledge of detection capabilities, such as:
Known Threat Detection
Commodity Threat Intelligence
Customized Threat Intelligence
Active Threat Hunting
Proactive Threat Hunting
Machine Learning
Behavioral Capabilities
Some providers tout machine learning and automation to enhance the perception of their detection capabilities. However, these are tools to achieve scale rather than techniques that provide additional detection capabilities.
MDR providers must be able to ingest signals and apply detection techniques without sacrificing quality. Choose a provider that has deep experience in detecting, analyzing, and stopping potential threats.
4. Response
Simply put, detection is not effective without a timely response. According to the 2019 Ponemon Cost of a Data Breach Study, each day between breach and containment costs an organization, on average, $15,433.00. When evaluating an MDR provider, choose a provider that has a quick response time to help your organization save time and money. Ask about their incident response approach, including what services and tools they use, to determine if they are right for your company.
The Seven Categories of MDR
There are seven categories of Managed Detection and Response. At a high level, MDR providers can be classified as SOCaas, MDr, or MDR. Subsets of MDr and MDR include single telemetry, multiple telemetry, and full telemetry. Each category is defined below to help organizations make a decision on which MDR solution works best for their business.
1. SOCaaS/Managed SIEM
SOCaaS/Managed SIEM providers offer a cost-effective but limited-capability solution to companies that are looking to outsource expertise but have tight budgets.
2. ED-little-r (Single Telemetry)
EDr vendors are an ideal option for organizations that have in-house resources to correlate data from other signal sources to confirm, triage, and contain threats promptly.
3. MD-little-r (Multiple Telemetry)
MDr-MT is viable for businesses that are trying to balance limited budgets with wider network visibility and that have existing in-house response capabilities.
4. MD-little-r (Full Telemetry)
MDr-FT providers can help organizations looking for full threat coverage across all environments and that have in-house capabilities to complete the IR Lifecycle.
5. ED-big-R (Single Telemetry)
EDR vendors are useful for firms that cannot monitor, investigate, and respond to endpoint threats but have in-house resources to correlate endpoint data from the MDR vendor with other signal sources to detect and respond to threats out of provider scope.
6. MD-big-R (Multiple Telemetry)
MDR-MT can benefit organizations with higher budgets, lower risk tolerance, and limited in-house capabilities to respond to endpoint threats.
7. MD-big-R (Full Telemetry)
MDR-FT is a suitable option for companies that have substantial security budgets and are looking for complete threat and IR Lifecycle coverage across any environment.
Expert MDR Services in NJ & FL
Mindcore is your trusted source for cyber security services in New Jersey, Florida, and across the country. We are committed to helping businesses of all sizes improve their security with MDR solutions. Our team of IT specialists will create a personalized strategy based on your specific needs and goals. Contact us to schedule a consultation today!